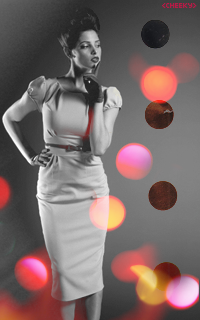 (c)CHEEKY&LORA
ashley greene & jensen ackles are
Effy Naomie Cooper & Christopher James Scott
BON NIVEAU DE RP + PRÉSENCE RÉGULIÈRE DEMANDÉ
But hold your breath
Because tonight will be the night
That I will fall for you over again
Don't make me change my mind
Or I won't live to see another day
I swear it's true
Because a girl like you is impossible to find
You're impossible to find
. . . . . . . . . . . . . . . . . . . . . . . . . . . . . . . .
Depuis toujours, miss Cooper & mister Scott s'attirent comme deux aimants. Ils ont même déjà sortit ensemble. Laissez moi vous expliquer l'histoire. Chris' & Effy entretenaient une relation non-exclusive. Car on sait tous que miss Cooper, au Lycée, avait vraiment peur de donner son coeur à quelqu'un. Et le jeune homme avait joué par les règles. Un soir, Eff' était arrivé dans le parking de l'école, et avait aperçue une de ses pires ennemis à l'arrière de la voiture ou Christopher était assis au siège du conducteur. Il avait vu Effy qui les avait surpris. Il sortit donc en courant, voyant son regard en colère.
▬ Non mais Effy, qu'est-ce qui se passe ?
▬ Oh mais tu te crois drôle ou quoi ? C'est quoi qu'
elle
fait elle dans ta voiture, totalement NUE ?
▬ De un, si tu pouvais ne pas me crier dessus. Je viens d'entrer dans ma voiture. Et en plus, je vois pas en quoi ça te concerne. On est en relation
non
-exclusive. Comme TU le veux Eff'. Tu as bien tout les garçons qui te courent après et j'en fais pas tout un plat !
▬ T'es qu'un con Christ'. T'as vraiment rien compris. Je voulais que tu te battes pour moi, que tu me dises que j'étais la seule à tes yeux. Que tu me prouves que tu m'aimais. Que j'étais différente de toutes celles qui ferait n'importe quoi pour être avec toi.
▬ Et comment voulais-tu que je le sache ?
▬ T'aurais du le sentir ..
Cette dispute a mis fin à leur relation. Quel que soit-elle, amitié améliorée ou bien amitié tout court. C'était une semaine avant le Bal, et Christopher en invita une autre, ce qui brisa le coeur de la jeune Cooper. Bref, après le Lycée, chacun est partit de son côté. Les liens se sont plus ou moins brisés. Mais 2 ans plus tard, alors que les deux avaient passé le cap des 18 ans pour en avoir 19 chacun, leur chemins se reroisèrent. Et laissez moi vous dire que leur retrouvailles étaient pas mal cocasses. C'était pas l'intermédiaire d'une amie d'Effy, et un ami de Christopher. Et tout cela par hasard. Effy savait seulement que son amie avait un amoureux dans une autre Université et qu'elle voulait lui présenter son ami parce qu'il était temps qu'elle donne son coeur à quelqu'un, même chose du côté du jeune Scott. Les deux avaient eu la même réaction avant d'aller a ce rendez vous, pensez l'un à l'autre. Parce que Effy&Christopher sont
faits
l'un pour l'autre. Bref, cette soirée s'est passé croyez le ou non à Vegas ! Oui oui, vous avez bien compris. C'était pour fêter le Nouvel an entre amis. Laissez moi vous dire la surprise quand la jeune brunette est sortit de sa limousine avec son ami et s'est fait présenter à Christopher. C'était comme si le monde avait arrêté de tourner. Leur couple d'amis était partit des devants et les avaient laissés seuls.
▬ Eum, c'est un drôle de hasard non ?
▬ Parce que tu penses que je n'aie pas oublier ce que tu m'as fait ?
▬ Effy, c'étais ton idée, que j'ai suivis à la lettre.
▬ Haha, quelle blague, t'es allez au bal avec cette grande pouffe ! Tu t'en ait vite remis de moi pour un garçon qui m'aimait!
▬ Ohhh, mais tu es encore DINGUE de moi à ce que je vois.
▬ Tais toi Christopher, je n'aie plus aucuns sentiments pour toi. Mais toi par contre, ça te ferais plaisir hein?
▬ Miss Cooper, les mensonges ne te vont pas bien du tout !
Et leurs petit manège avait continué toute la soirée. Enfin, le meilleur reste à venir. Ils étaient tout les quatre en boite de nuit et buvaient comme ce n'était pas possible. La fête était au rendez-vous quoi ! Et tous s'amusaient comme des dingues. Vous voulez la preuve qu'ils étaient bien saoules ? Le lendemain matin, les deux se sont réveiller avec la bague au doigt. Non, vous ne rêvez pas. Effy & Christopher sont mariés. À leur retour, ils sont allé expliquer leur erreur pour qu'on leur attribut le divorce mais le juge les a condamné à 1 an de mariage forcé, à bien se comporter. Cela fait maintenant 2 mois. Les deux réalisent cependant que ce mariage n'est peut-être pas autant une erreur qu'il le croyait. Christ' en a marre de s'engeuler avec elle parce que c'est la femme de sa vie, et il est sur qu'elle l'aime aussi. Il aimerait lui faire un mariage devant tout leur amis, lui demander sa main comme dans une vraie belle histoire d'amour. Et tout le monde le sait,
they are meant to be together
.
PS;
le couple d'amis est jude a. underwood & luke e. sanders
- pour plus d'infos; mpottez :]
. . . . . . . . . . . . . . . . . . . . . . . . . . . . . . . .